Handwritten Beatles material consists of anything that was scripted or printed by one or more members of the band with content above and beyond a simple signature with or without a short salutation. Quite simply this refers to notes, letters, memos, bylines, etc. In the early days, before they were a worldwide phenomenon, group members - particularly John, Paul and George would actually answer a quantity of fan mail delivered to them or even slid under their doors by adoring female fans. They would take the time to write short notes or letters in response, often signing with "love" and "X's".

Handwritten correspondence was not limited to fan mail, however. Although the vast majority of the letters, notes and postcards were not originally intended to become collector's items because of their personal nature, sometimes the recipients of such material realized that there was a monetary value inherent and often the decision was made to place them on the market either through auction or private sale.

The value of any item that is handwritten by a member of The Beatles is directly proportional to two factors: the content of the writing and the amount of writing. The content is the most important, especially if it contains any information about the history of The Beatles or a band member's state of mind during a particular period. For example, a John Lennon 4 page handwritten letter from Hamburg in 1961 to a friend discussing the grueling schedule of The Beatles and the fact that he might be discouraged about the group ever fulfilling his dreams and goals, would be a piece for the serious collector and would have a relative high dollar value.

By comparison, a 2 line postcard written by John in the mid 1970's with minimal content would be more affordable for a collector who would simply like to own a piece of Lennon writing. All in all, Beatles handwritten material can be important and exciting to own as it is always a bit more personal than a signature, which, of course is far more abundant. Finally, handwritten material represents a very special intimate part of The Beatles lives that were seldom imparted to the public in any way. To acquire even one of these treasures is indeed quite an accomplishment for any fan or collector.

---
SI22. A Handwritten Letter Signed By All 4 Beatles While On The 1966 U.S. Tour

In the late fall of 1966, a charity LP called "Beatleviews-66" was released. The record contained interviews conducted with the Beatles while on their 1966 tour of North America. The narrator of the LP was Ken Douglas, a deejay from radio station WKLO in Louisville, Kentucky. In the mid-1960s, Douglas was somewhat of an anomaly among deejays in America. He was British. As might be expected, amid all of the fan frenzy surrounding the Beatles and other British groups, this made Douglas (and his accent) very popular among listeners of WKLO. Never mind that he had long hair, vaguely resembled George Harrison and wore clothes that looked to be straight out of Carnaby Street.
The London-born Ken Douglas had migrated to the United States in 1964 on the heels of the British Invasion, having been exposed to America through his earlier career as the athletic director on a cruise ship. From New York, he traveled to Louisville to visit friends and met up with a man who had a men's clothing store that happened to be across the street from WKLO. Douglas got a job at the clothier and in 1965, through the store's proximity to the radio station, had a chance encounter with program director Mitch Michael. Michael invited him to the station, gave him a tour, introduced him to the staff and, seeing the potential in having a Brit on the air, asked him if he'd like to sit in with one of his deejays and talk about London life, fashion and music. Douglas did the gig for about two months, and was soon offered his own show. For "The Ken Douglas Show", he would make frequent trips to London to interview all the top British stars, and before long, he was the top jock at WKLO. By early 1966, the much in-demand Douglas had his own fan club with a devout following of over 1,400 members.
An encounter with Beatles press officer Tony Barrow led to a meeting with Brian Epstein, who told him that the next time the Beatles toured America, he'd be invited to join them. For the first half of the 1966 North American Tour, Douglas was at their side, in hotels, on the plane, on buses and backstage before the shows. His reports from the tour helped place WKLO at the top of the ratings heap in Louisville.
The Beatles found Douglas someone they could easily relate to - a fellow countryman. In Cleveland on August 14, 1966, Douglas sat down with Ringo Starr, who told him about his home life and fatherhood. Douglas also reported on the chaotic scenes at Cleveland Stadium. Two days later, on August 16th in Philadelphia, Douglas snared Paul McCartney for a lengthy recorded chat. When Douglas brought up the diminishing crowds at Beatles concerts, McCartney was quick to remind him that the Beatles still played to more people than any other act. Douglas predicted that the Beatles would continue to sell records long after they stopped touring, which led McCartney to reveal that the group was far more interested in writing and recording than performing, citing the band's increasing inability to be heard above the screams. Of course, history has shown that, two weeks later, their touring days would indeed end. McCartney then spoke with Douglas about his life in London (having just bought a home near the EMI Studios), the Beatles' recording schedule after the tour, the trip he took to Paris with John for the latter's 21st birthday and the mayhem in Cleveland, commenting that he enjoyed "fan participation" as long as no one got hurt. Finally, referring to the negative publicity generated by Lennon's "Bigger Than Jesus" statement, McCartney told Douglas that when there was no good news to report, the papers preferred disparaging articles. The pair got on well together.
Within five days of Douglas' interview with McCartney, the Beatles' bassist had written him a letter, which was on Paul's personal linen stationary. It read:

"Dear Ken and fellow Tea People,
Just a line to say best, yes best, of luck on this new and courageous enterprise. May she reign forever, and sail the ocean blue, yes blue.
All the best to everyone there from all of us here."
McCartney then signed his full name, followed by the other three Beatles - John Lennon (who has added "F.B.O." following his signature), Ringo Starr and finally, George Harrison, who has written "and not forgetting" before his signature, and a star-burst symbol afterwards. The "J" used by John is a 'throwback' to the style of "J" that was last seen in early 1963 – some 3 ½ years prior. All four of the signatures on this letter are perfect; they are excellent and complete examples, and are as nicely as they could have signed on that day. Additionally, McCartney has written "ESQUIRE" following his printed name in the letterhead.
The included, original mailing envelope is also fully-addressed in Paul's hand on the front:
To
"Tea Time"
Ken Douglas
Radio WKLO
307 West Walnut St.
Louisville
Kentucky
This envelope is postmarked from Cincinnati, Ohio on August 21, 1966, the exact mid-point of the tour. Affixed is the required 5 cent postage, in the form of a blue tinted George Washington stamp. On the reverse are the printed words "J.P. McCartney, London, England", the font being an exact match to that on the stationary – therefore making this the proper accompanying envelope!
"Tea Time" refers to the frequent tea breaks that Douglas would take on the air with students visiting the station. While the content of the letter is subject to interpretation at this point in history, the "new and courageous enterprise" that McCartney writes about could refer to Douglas' possible return to the men's haberdashery business, which had been his occupation prior to his stint at WKLO. After leaving the station in 1969, he worked briefly at WINN and WAKY in Louisville and then moved to California where he did return to the men's clothing business, this time in a partnership with his close friend Davy Jones of the Monkees. This letter could allude to an earlier possible venture in men's apparel, which indeed would happen, but not for several years after.
Handwritten letters signed by all four members of the Beatles are exceedingly scarce, with less than a handful surfacing to date. Add to that the fact that the vast majority of known (single signed) personal letters from any member of The Beatles was written in their early days, through 1963. Anything handwritten from the mid-1960s, especially while on tour in North America, is exponentially much more scarcer.
This is by far the best of the few letters signed by all of The Beatles known to exist, making this an extremely rare opportunity for the discerning collector….. $30,000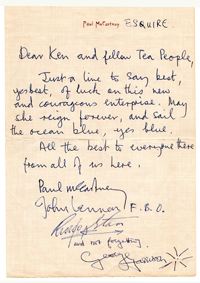 (click image for complete details)
---

SI5. A George Harrison Handwritten Letter to a Fan, August 1963

From August 19 through August 24, 1963, The Beatles played a series of shows at the Gaumont Theater in Bournemouth on the southern coast of England. During their extended stay in this seaside resort town, the band took up residence at the very posh and very exclusive Palace Court Hotel. While there, photographer Robert Freeman took the cover shot that would be featured on the front of the band's second album, "With The Beatles", which was released a few months later. Between gigs, they took time out to answer some of their fan mail. George also wrote his first song which appeared on a Beatles album, "Don't Bother Me", while sick in bed at the Palace Court Hotel during this time in Bournemouth.

This 2-page letter, handwritten by George Harrison "To Boote" on Palace Court stationery, is filled with interesting references. His opening line mentions the chart-topping "She Loves You" which he urges the fan to buy (it was released on August 23rd, one day before they left Bournemouth). It would instantly hit number one, and went on to become the best selling Beatles single ever in the U.K. He follows this with a reference to 'jelly babies', the soft British confection he had recently told the press was their favorite candy. After his comment was published, British fans inundated the group with boxes of jelly babies. In this letter, Harrison denies their affection for jelly babies, stating that no one in the band likes them and that the press made it up. (His published comment would have further repercussions a few months later when American concertgoers showered the band with thousands of jelly babies, a much harder candy The Beatles disdained because of the pain they inflicted when they were hit by them on stage.) Harrison then makes a reference to the band's ever-growing presence in London as their recording career progressed, a move which upset their original Liverpool fans and, as they earned international acclaim, proved to be permanent.

Harrison additionally comments on the frenzied audiences at Beatles shows, stating that "we don't mind girls screaming in the noisy numbers, but I think we would prefer them to be a little quieter in the slow songs." He also alludes to what was obviously a question about their forthcoming shows, telling the fan that there are no scheduled appearances at the Gaumont State Theater in London's Kilburn High Road, but that they will be playing London's Royal Albert Hall. (This was the 'Great Pop Prom' show held on September 15, 1963. The Beatles topped the bill, sharing the program with eleven other acts, including a new up-and-coming band called The Rolling Stones.) Harrison signs off with a full signature which is extraordinary and as nice as he could have signed on that day, followed by three kisses ("XXX").

The letter is written in blue ballpoint pen. The two pages each measure 5" x 8", have three mailing fold lines and are in very good condition overall. Letters written by members of The Beatles to their fans are quite scarce. While they would reply to fan letters early in their career, the practice would stop altogether by the end of 1963 and into 1964 as they became international stars and virtually untouchable — and unreachable.....$7,500


---

SI4. A Letter Written By John Lennon To A Fan In Early 1963

This letter was fully handwritten by John Lennon in black fountain pen on a sheet of stationary paper which measures 8" x 10". He starts off by writing his return address in the upper right hand corner: "251 MENLOVE AVE WOOLTON LIVERPOOL 25 LANCS" (Lancashire). This, of course, is "Mendips", the childhood home where he lived with his Aunt Mimi from 1945 until 1963, when The Beatles' growing fame necessitated a move to London.



The letter reads:

"Dear Dawn,
Thanks for your letter, glad
you liked the show.
For fan-club information,
I can't tell you about opening a
Stoke-on-Trent branch but I suggest
you get in touch with the Northern
Branch here in Liverpool and they can
let you know all about it. The address is
NEMS 12-14 Whitechapel
Liverpool 1.
Lancs.
Thanks again – hope to be
in Hanley again soon.
Cherrio (sp)
love
John
Lennon
X"


Hanley was one of six towns that comprised Stoke-on-Trent and The Beatles played there only twice in their career -- on March 3, 1963 (the final night of the Helen Shapiro tour, during which The Beatles were an opening act for a 16 year old girl) and again on May 19, 1963 (the second night of their tour with Roy Orbison).

This letter, in response to one the fan had written to John following the March show in Hanley, as the signature dates from early March of 1963. (By May, just two months later, characteristics within John's signature had changed noticeably). On March 5th, just two days after that first Hanley gig, the band recorded their third single "From Me To You/Thank You Girl" and on March 22nd, their first LP "Please Please Me" was released. By the time they returned to Hanley with Orbison in May, The Beatles were so enormously popular that they would soon grab the spotlight from the American headliner, taking top billing on the tour. They had already come a long way in just two months.

This letter represents one of the very few times that Lennon personally answered fan mail with a handwritten letter and it is certainly one of the last times he ever wrote to anyone from "Mendips" before his move to London. Once he took up residence in the city, the demands on his time grew exponentially and he rarely had the time for long personal replies like this one.

The charm of this letter lies not only in the fact that it was written from his childhood home, but that he takes the time to personally direct a fan to the proper source for Beatles fan club information. Naturally he provides her with the address for Brian Epstein's NEMS store on Whitechapel Street in Liverpool, which at the time was the "Eppy-center" of the Beatle universe! Shortly thereafter, The Official Beatles Fan Club would be located on Monmouth Street in London.

The letter is in very good condition, with non detracting mailing fold marks, tape residue at top left and a small tear to the right of this residue.

Letters handwritten by John Lennon are extremely desirable and few are offered for sale in any given year. This is a truly rare opportunity to own a letter written by John just prior to The Beatles' quick astronomical rise to an unprecedented level of fame, which began right after this letter was written, following the release of their first LP record "Please Please Me".....$19,500
---